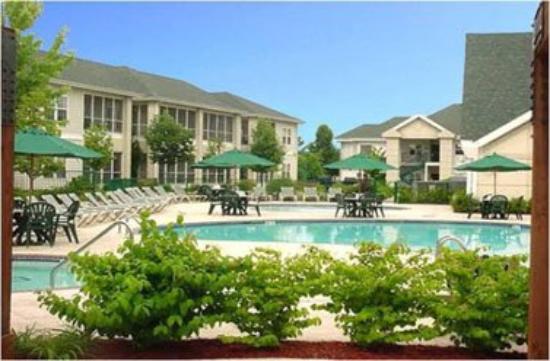 Palace View by Spinnaker Resort Branson Condo Vacation Rentals
Palace View by Spinnaker, an RCI Gold Crown-rated resort, provides a peaceful setting with luxurious lodging accommodations.  But, the resort is very close, only a couple minutes' drive, to the Theater District and other exciting Branson-area attractions.
This resort offers an outdoor swimming pool, sauna, wading pool, games room, and exercise equipment on site. Other amenities include indoor and outdoor pools, hot tubs, and an activities center that will keep you busy before your Branson nightlife begins. The grounds are well-kept, making this a great location to meet and chat with other vacationers. The facilities are also first rate and well maintained, making this resort a real vacation value.
Branson offers amusements and activities for the entire family, including a wide variety of musical shows, theme parks, shopping, museums, attractions, and water activities, all of which are found within the scenic beauty of the Ozark Mountains.
Condo Vacation Rental Availability Palace View by Spinnaker Resort Branson
We no longer own at this resort.  Email us for other options.
Save by renting from us — the regular resort rates for 1BRs are $850 per week (source: Spinnaker Resorts)
Please click here to check availability or to rent your week.
The prices shown are the TOTAL prices. There are NO additional charges (such as sales or lodging taxes, cleaning fees, deposits, booking fees, etc.). The price you see is the price you pay!
We have made renting a week fast, easy, and most importantly, safe! You won't be reading the numbers off your credit card to some stranger on the phone (who knows where those might end up?).
Instead, your payment is handled discretely and securely by PayPal, which is an eBay company. If you are already a PayPal member, you are familiar with the benefits of using PayPal to buy on the Internet. If you don't have a PayPal account, that's alright, you don't need one! PayPal's secure system allows you to use any major credit card to make your payment. There is no cost to you for using PayPal, and by using a credit card, your purchase is protected and your peace of mind assured.
So, go ahead, click here and get your week!
Enjoy far more than standard accommodations and amenities at Palace View by Spinnaker. Savor the private luxury and spaciousness of a condo, villa or townhome. Our lodging accommodations at Palace View include  a two bedroom lockoff units with flexible floor-plan; this means that the two adjoining full units may be combined to create a much larger unit.
All 2BR holiday rentals provide:
Full kitchen
Open floor plan
Washer/dryer
Fireplace
Patio or balcony
The Premium "A" Side 1BRs include jetted tub and separate shower stall in the bathroom, as well as seating for 6 people (versus 2 people in the "B" Side) in the dining area.
Palace View by Spinnaker Resort Branson Onsite Amenities
Air Conditioning (In Units)
Clubhouse
Cooking Facilities (In Units)
DVD or VCR (In Units)
Exercise Room
Equipped Laundry
Facilities Lock-Off
Playground
Sauna or Steam Room
Swimming Pool,
Indoor Swimming Pool
Outdoors Swimming Pool
Television (In Units)
Wheelchair Accessible
Whirlpool Spa or Hot Tub
Palace View by Spinnaker Resort Branson Area Amenities
Bar/Cocktail Lounge
Beach
Boat Marina/Launching
Car Rentals
Day Spa
Entertainment, Live
Fishing
Golf
Grocery/Convenience Store
Horseback Riding
Lake
Restaurant
Sailing/Rentals
Scuba Diving
Tennis
Waterskiing
Contact Information
If you have any questions or need any help regarding anything on our website, please do not hesitate to contact us.  Our email address is [email protected], and our telephone number is (520) 761-1412.
This slideshow requires JavaScript.